Sometimes there are moments when things fall into your lap and the ripples from them just keep going and going. The purchase of two photos, which showed either side of a PzIV and were attributed by the seller as 19th PzDIv was one such occasion.
A bit of background first. I have been collecting photos of PzIV on ebay for 10 years. This started off as a bit of an experiment to find out more about collecting and building a collection as part of an ongoing interest I have as an artist in systems of categorisation. The PzIV was picked for the simple reason that it was the only tank to be in operation on the first and last days of the war - a nice neat conceptual space. Operating under the nom de plum of 8wheels-good (as i boy I had adopted the Orwellian phraseology to distinguish between the similar looking PzIV -(8wheels-good) & the PzIII (6wheels-bad)) I have been buying photos on ebay. 10 years later I have now published 4 volumes of this collection and found all sorts of interesting stuff out on the way, there is a sister blog at http://8wheels-good.blogspot.com/ that deals with these books specifically. They were completed for my recent exhibition "the order of things" in the Foyer gallery in Aberdeen.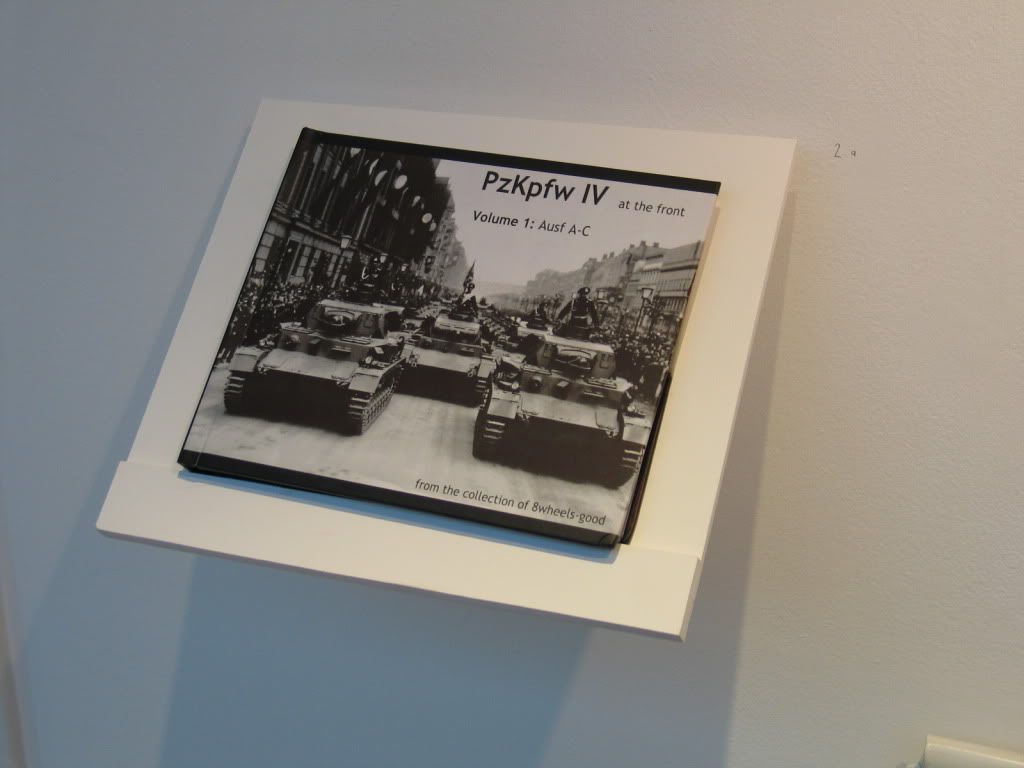 Where they were one of a number of exhibits dealing with the themes mentioned above. Including this survey by models of every type of wheely bin in Aberdeen.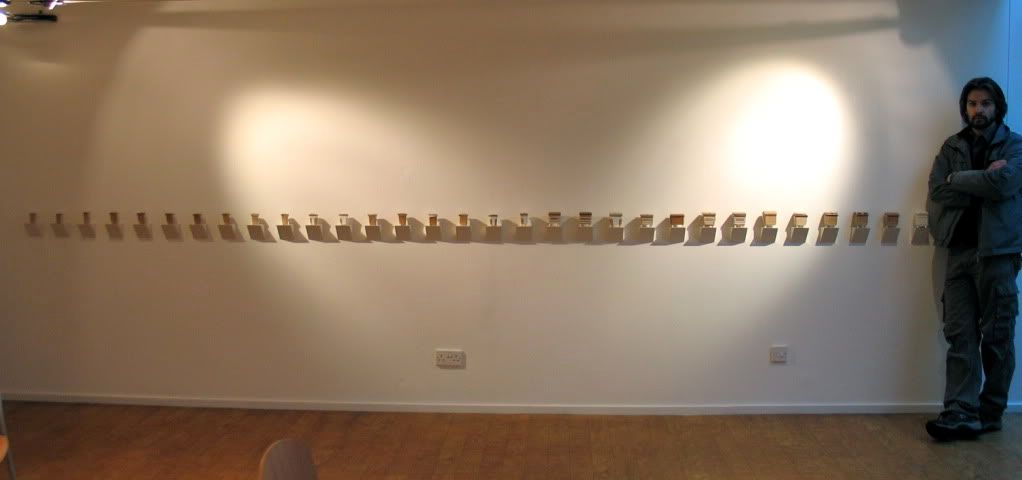 So this investigation into the types of stowage has come about as a spin off from the exploration of PanzerIV development. This blog is part retrospective of the last two years and part ongoing analysis of found images.
On occasion within that study I have had to try and date and place images and part of that process has lead me to look at the way units can be identified. Increasingly frustrated by the number of times I came across the phrase "unknown unit" in volumes dealing with the Russian front I stumbled over the afore mentioned images from a 19th PzDiv album showing some vehicles from either side.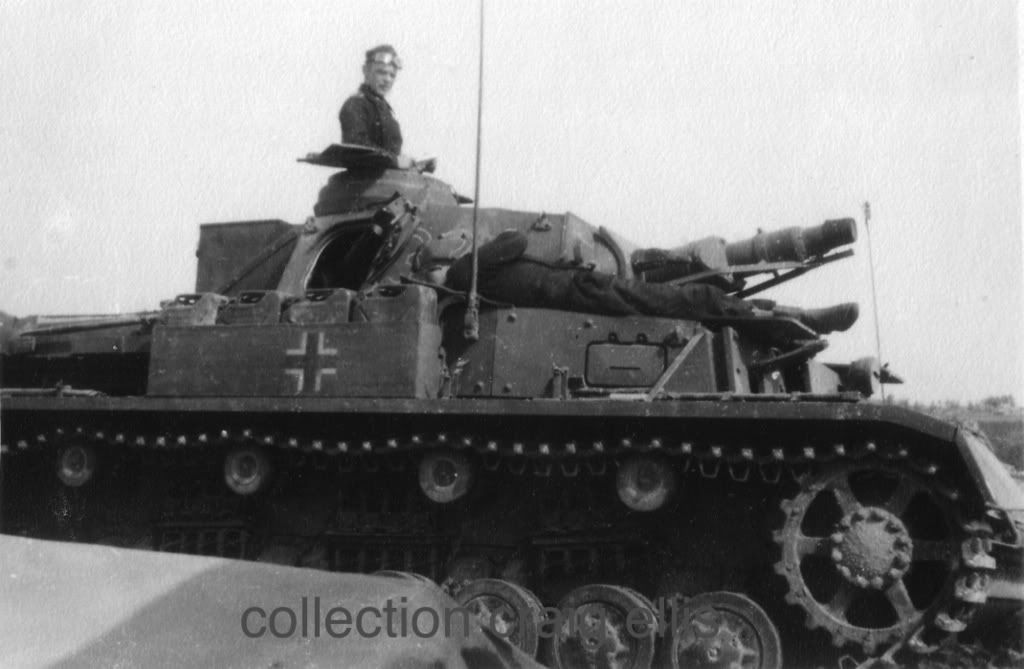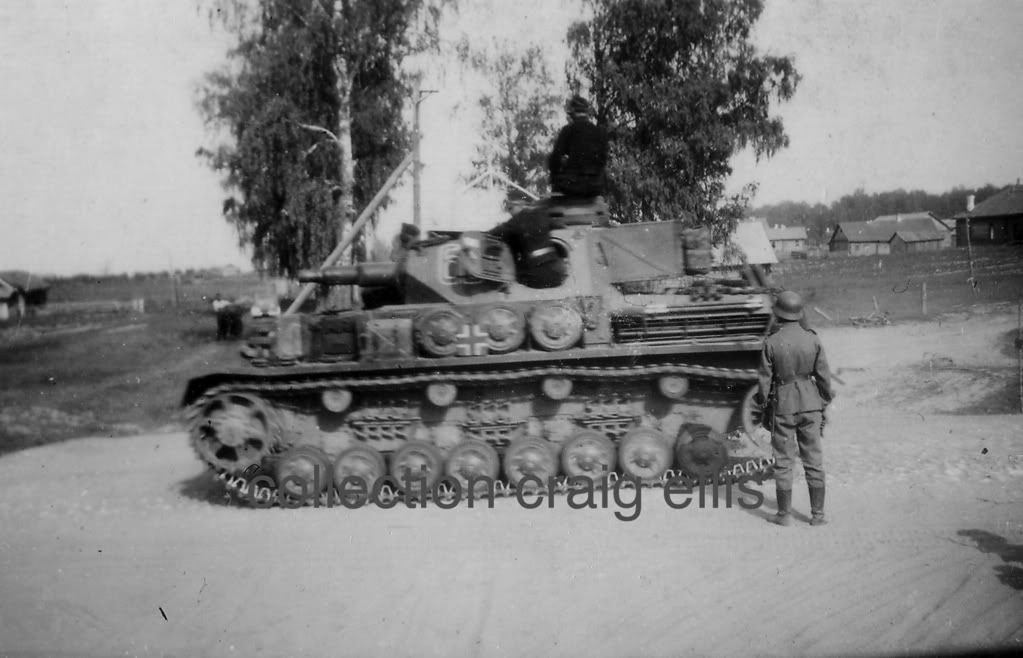 They show two vehicles, one from the 6th and one from the 3rd Kompanies. Both have a series of short runs of track-links attached to their hull sides for added protection and both have a non-standard turret bin that is square with external bracing in common.
After this I realised that the stowage system on these vehicles were the same as many of the "unknown unit" images, and of some I already had in the collection;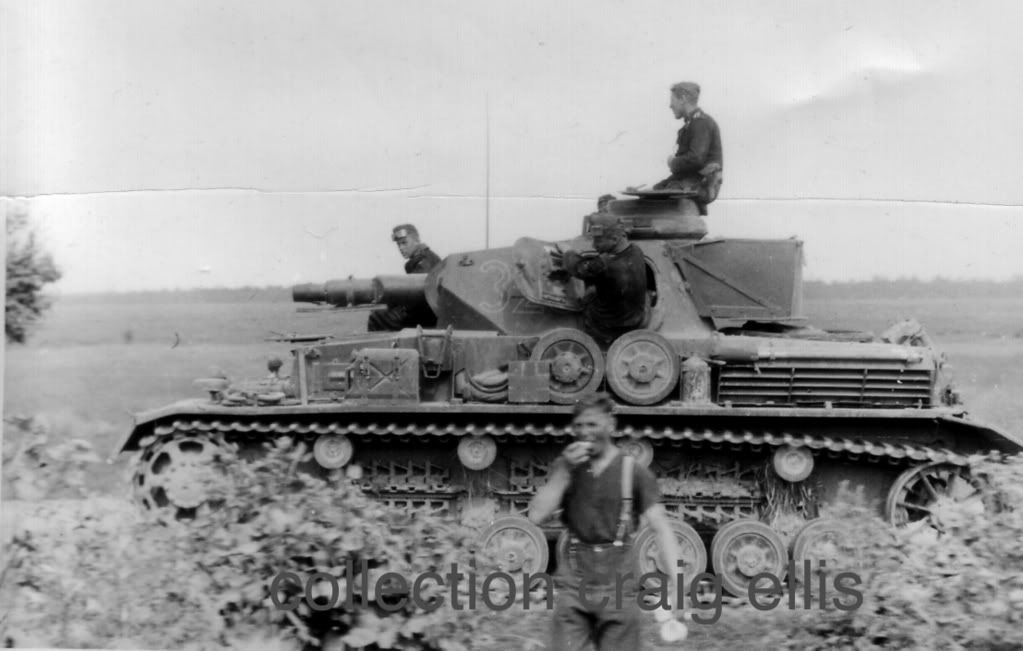 this image mirrors the left side view of the 6th K vehicle above almost perfectly, although this is clearly a 3rd K vehicle. A bit of a break through! I have owned this image for 3 years but
nothing
in my research of published histories had given me any indication it was from 19th PzDiv.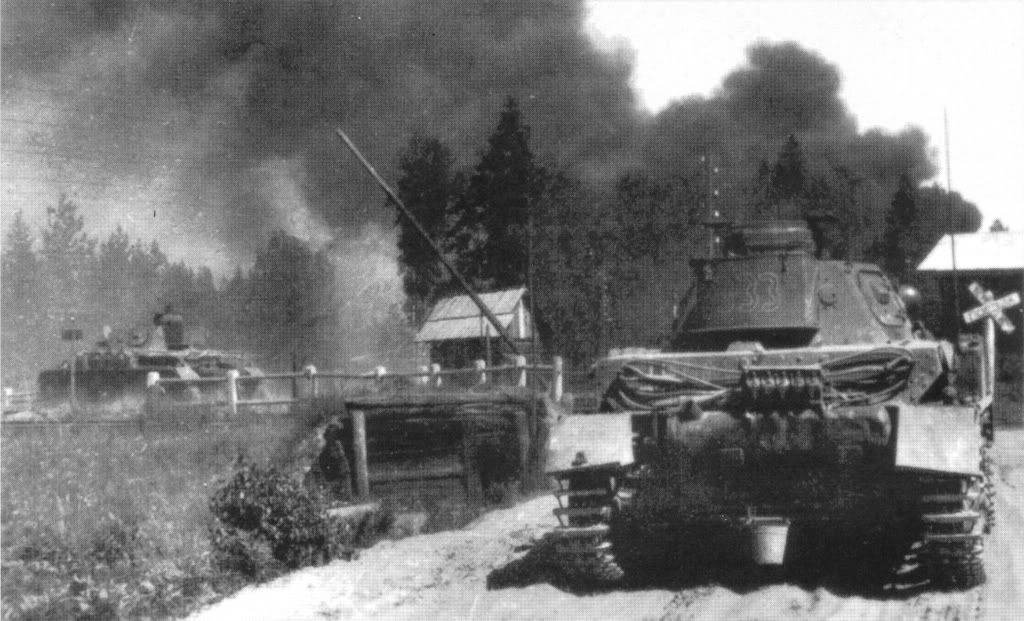 These two then confirm that the left and right stowage of wheels and jerry cans was common to all vehicles. So a clear universal system was being applied that allowed me to identify 19th PzDiv vehicles from any angle without them obviously displaying the unit symbol.
A day later after raking through my library and hoard of downloaded images I had been able to identify another 23 images, all previously designated as "unknown unit".
The obvious next stage was to identify vehicle carrying clear unit identification and use them as a starting point for the other 17 Divisions.